Varieties of beer
It goes without saying that all of the speciality beers brewed by FORST are served at the Forst Season restaurant. FORST 1857, our trendy lifestyle bottled beer, our elegant FORST V.I.P. Pils, our FORST Kronen, a king among our beers, our naturally cloudy rock cellar beer, our dark doppelbock FORST Sixtus, and not forgetting our celebratory Christmas beer.
Beer lovers will relish the wide range on offer. All in an atmosphere that makes you want to seek out fellow beer lovers. Quality and taste everywhere – simply the perfect combination.
Forst 1857
FORST V.I.P. PILS
Forst Felsenkeller
FORST KRONEN
FORST SIXTUS
FORST HELLER BOCK

Foam
Extremely pure, with subtle hints of hops.
Aroma
Extremely pure, with subtle hints of hops.
Forst 1857
Taste
A largely herbaceous flavour with delicate notes of light malt.
Particularity
A velvety beer offering distinctive notes of malt, honey and acacia, as well as a very delicate hint of bitterness, with a pleasant aftertaste.
The glass

None. Enjoy FORST 1857 directly from the bottle.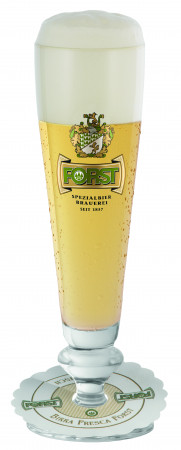 Foam
Fine, compact and persistent.
Aroma
Pleasant, with hints of grains and hops.
FORST V.I.P. PILS
Taste
Particularly dry and very refreshing, with sophisticated bitter notes.
Particularity
High quality aromatic hops and a special ageing process help to produce the appealing hoppy fragrance. The fresh, delicate sensation on the palate, refined elegance in the flavour and compact head make it one of the best Pils beers around.
The glass

A conical, narrow, tall and slender flute glass that preserves its liveliness.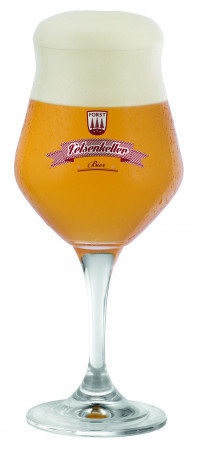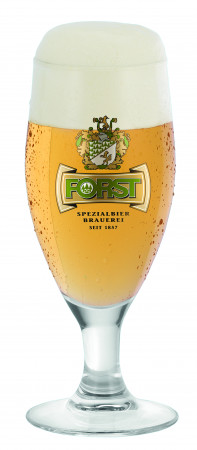 Foam
Fine, adherent and persistent.
Aroma
Pleasant and elegantly intense.
FORST KRONEN
Taste
Rounded and reasonably bitter.
Particularity
A special beer with a full flavour featuring malty notes, a golden yellow colour and understated, subtle hoppiness. There is a slight grassy fragrance to the aftertaste, which comes together with the sweet sensation left on the lips to make another sip irresistible. It is made with an age-old recipe and will fully satisfy all genuine beer connoisseurs.
The glass

A smooth chalice made of thin glass with a tapered form to "raise" the head while also preventing it from overflowing.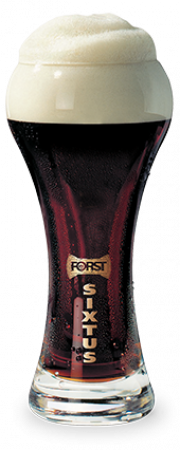 Foam
Kompakt und konsistent.Compact and persistent.
Aroma
An intense fragrance of roasted malt, refined with some discreet hoppy hints.
FORST SIXTUS
Taste
Velvety with a distinctly malty feel and warm notes of roast, spicy caramel.
Particularity
The famous, highly popular strong FORST Beer. The special malts used and the specific production process help to create its unique caramel flavour. It is immensely, unforgettably satisfying from the first sip. Its dark colour and delicate hoppy notes evoke memories of the original strong beers and the traditional art of beer making in monasteries.
The glass

An elegant bulbous glass with a narrow cylindrical body that expands in the upper part to enhance the aromatic intensity. The tapered top holds the head and allows the aromas to be released.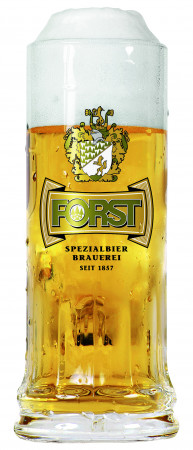 Foam
Compact and persistent.
Aroma
Moderate.
FORST HELLER BOCK
Taste
Full, well structured.
Particularity
Produced in an original manner with two blends and fermented in the time-honoured way, this beer then goes on to age in FORST's traditional strong beer cellar. The result is a fantastic balance between the malt and the hops. It has a powerful aroma but is nonetheless very refined. The aftertaste is slightly malty yet elegantly fruity at the same time.
The glass

A smooth, cylindrical glass with a handle and details on the base. One of the most traditional beer glasses, it is designed to contain the creamy head.
Table reservation
You can request the availability of a table by telephone or via e-mail filling out our reservation form.
If you have any questions do not hesitate to contact us.
+ 39 0471 36 66 64
Online booking